In the world driven by information, it would be hard to find a more significant business task than data analysis and reporting.  Although this highly competitive market offers a number of high quality reporting tools, SiMX TARGET Reports should be a product of choice for a large segment of users and tasks.
This article intends to prove this point by comparing TARGET Reports with one of the leaders in the reporting tools industry: Crystal Reports from Business Objects.
Unlike Crystal Reports, which tends to cover virtually any reporting task and therefore is overwhelmingly complex, TARGET Reports is concentrated on the well defined management reporting workflow typical for the majority of business organizations.
Such a "targeted" reporting solution enables business users to easily produce reports avoiding involvement of trained technical specialists thus significantly reducing the overall reporting costs.
Extensive analysis of corporate management reporting workflows demonstrated that most of the reporting tasks are based on data aggregation. Virtually any summary report setup could be divided into three independent parts: a) data access, b) data processing, and c) presentation.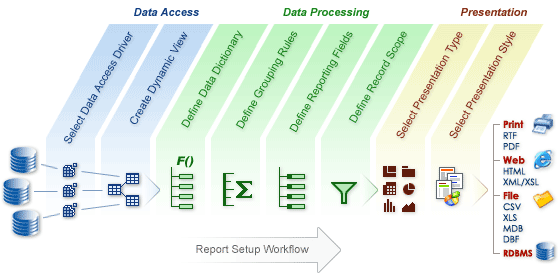 Data Access
The typical reporting tasks usually involve multiple data sources distributed among various databases and other data storages. Modern technology offers a variety of data access drivers providing access to virtually any data source.
Selecting and configuring data access drivers and data connections

Creating dynamic views by linking related table
Data Processing
Despite the possible complexity of the reporting algorithms the principle structure of a data processing setup is identical for most of reports and consists of the three components:
Grouping rules

for creating groups and their sorting

Reporting Fields

and algorithms for their calculation and sorting

Record selection

limitations (scope expression)
Presentation
Aside of the artistic features and free positioning of reporting elements on the page the principle presentation forms are also limited and fall into two categories with a few variations inside each of them:
Tabular

: Nested, Subtitled, and Cross-tab (with or w/o details)

Charts

: Point, Line, Bar, Pie, and their variations (2D/3D)
TARGET Reports offers interactive means (as opposed to wizard-based approach) for setting the data-related setup and lets selecting/change the desired presentation form on the fly. It is the shortest way of achieving the goal for users concerned about the content of the reports (as long as reports look professional and are easy to read) rather then on their layout features.
Feature Comparison
Feature

TARGET Reports

(TR)

Crystal Reports

(CR)

Comment

Free layout editing

-

+

As opposed to CR TR was designed to produce fully automated report layouts optimized for a particular output format.

Automated report formatting

+

-

TR supports optimized generation of tabular report elements such as Nested, Subtitled, and Cross-tab (with or w/o details) tables and charts: Point, Line, Bar, Pie, and their variations

Convertible presentation forms

+

-

TR lets the user to switch from one presentation form to another with just one click. Different types of tables and charts can be converted into each other 

Multiple data sources per report document

+

-

Each TR report document can have unlimited number of data elements connected to multiple data sources.

Linking of Resource Objects

+

 

-

TR allows visual linking of objects such as Data source, Dictionary, and Scope between different data elements to simplify maintenance.

Output formats: HTML, RTF, PDF, XML/XSL

+

+

TR can be configured for saving run the output report documents in different formats and/or open them in appropriate browsers.

Summary table export: CSV, XLS, MDB, DBF, any DBMS

+

-

Each data page element can be configured for saving (on run) the output report data as a database table.

Cross-Database Views

+

+-

TR fully supports cross-database tables' linking, while CR does not support cross drivers summaries.

Advanced Grouping Scales

+

-

This feature is especially helpful while creating comparative trends and stratification reports.

Group sorting by aggregate functions (by Subtotals)

+

+

TR offers a simple drag and drop interface for setting group sorting with unlimited number of sorting levels using any aggregate calculations.

Top N groups report

+

-

TR offers an option of generating reports with only top N groups shown. 

Recursive Calculated Fields

+

-

TR permits the usage of already created calculated fields within the definition of other calculated fields.

Aggregate Calculated Fields

+

-

TR allows usage of aggregate functions within definitions of calculated fields.

Script-based customization of group calculations and database driven querying

+

+

TR enables dynamic customization of all report setup components through VB Script functions written for various report generating related events such as OnStartReport, OnStartGroup, OnRecord, OnFinishGroup, and OnFinishReport.   

Programming automation

+

+

TR can be used as a programmatically controlled component with virtually any development environment
Crystal Reports offers two main workflows for designing reports: a wizard-based step-by-step walkthrough for fast and easy generation of typical reports and free editing for producing custom arbitrary reports. Crystal Reports allows creation of multiple reports, but does not support integration of multiple reporting elements into one reporting document.
TARGET Reports addresses mainstream management reporting tasks offering an extremely easy-to-use environment for generation of professional easy-to-read reports. Unlike Crystal Reports, where the WHAT to report is mixed with HOW, TARGET Reports provides a complete separation between the two with complete automation of the HOW part.  This means that the user can concentrate on WHAT to report and is able to change HOW with just a couple of clicks.
Related Sections